10/06/16 07:54
"Back in the late 1960s, British singer- songwriters began to develop a distinctive 'troubadour' style. Drawing on human experience and personal observation, their songs had a narrative, ballad quality to them, combined with wry, subtle humour. although still including american folk and blues influences, British traditional, jazz and classical themes frequently found their way into the melodies.
In the early 1970s a young Fraser Nimmo, armed only with a martin 00-18 and a degree in theology, moved from Scotland to London and joined this burgeoning scene...."
Find out more on the
Acoustic Magazine
website.
10/03/09 08:07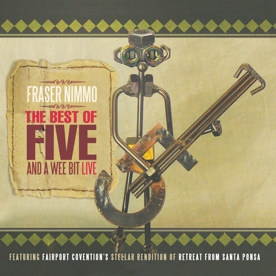 This 20 track CD is a compilation of Fraser's last five solo albums and also includes some live tracks. With a running time of nearly 80 minutes, the two decade snapshot sees Fraser playing with some of the best in the business - Maartin Allcock, Ian Bolens, Fairport Convention and many others - and Fraser recalls: "The biggest musical thrill of my career to date was hearing Fairport playing one of my tunes - a stellar rendition of Retreat from Santa Ponsa - and it features towards the end of this album". If you've ever seen Fraser on stage you'll have heard some of these songs. Best of Five and a Wee Bit Live is available from
Fraser Nimmo's shop
.
"
Superb value for money and I guarantee you won't be disappointed, so lock the door, grab a 'dram and mellow to the very best of the man who says he will "Sing Until He Dies" what a way to go
." - Duncan Stewart,
The Living Tradition
.